FOR HEALTH & EDUCATION
Promoting  culture, health & education for Barbados, Bajan's and their friends and family at home and in Southern California.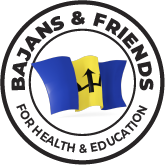 HEALTH & EDUCATION
BAFFHE supports health & education by participating in health fairs, giving scholarships, sponsoring community schools and organizations and much more.
SCHOLARSHIPS
Each year at Independence BAFFHE awards two scholarships to students to help support their educational endeavors.  We also give a small book stipend.
INDEPENDENCE CELEBRATION
November 30th is celebrated as Independence Day and is a national holiday in Barbados.  We host a scholarship banquet and Independence Celebration and would love for you to join us.
CULTUre
We proudly share and celebrate our Bajan culture with events such as our Annual Fish Fry & Santa Barbara Bus Trip filled with fellowship, Bajan food and fun. 
Want to join our efforts? Membership is just $50 per year.  
That fee helps to support all that we do in the community. 
BAFFHE, a registered non-profit,  gives out annual scholarships to Bajan students as well as supports community organizations and schools.   We would appreciate your help.
BAFFHE awards scholarships to Bajan students and also contributes locally to schools, teachers  and community organizations.
Find out more.
Health Empowerment Event & Lunch
Now more than ever, we must take control of our health.  Join us for a Sunday lunch and important health talks from Dr. Terrisa Ha, Dr. Cadrin Gill, Dr. Austina Cho and Joan Forbes.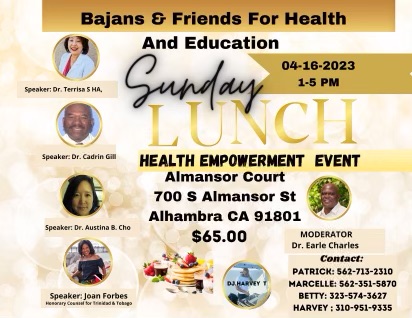 ANNUAL CASINO TRIP
Join BAFFHE for a day of shopping, casinos and fun at during our turn our trip to Viejas Casino.  
SANTA BARBARA BEACH TRIP
Come see beautiful Santa Barbara with BAFFHE.  Board the bus in LA and party with us on the bus with drinks and Bajan treats and then enjoy a Bajan meal on the beach .   
BARBADOS STYLE FISH FRY
Come enjoy a delicious Bajan Fish Fry with flying fish, peas and rice, veggies and more.  We offer Dine-In or To-Go orders.   
FRIENDS & FAMILY DAY PICNIC
Along with Citizens & Friends of Trinidad & Tobago we invite you to a family fun day in the park.   
BAJANS AND FRIENDS FOR HEALTH & EDUCATION SCHOLARSHIp AND AWARDS BANQUET & CELEBRATION OF BARBADOS' 57TH INDEPENDENCE
Come help us honor our 2023 scholarship recipients and award winners as we celebrate Barbados' 57th Independence.   
INTERNATIONAL SUNDAY
Worship with BAFFHE at St. Francis Episcopal Church as they celebrate the international cultures of their members.  Service includes music, dance and performances followed by lunch.
Dear Barbadians and Friends of Barbados,The Prime Minister has designated 2020 as the Year of the Barbadian Diaspora. Barbadians worldwide will be invited to return to Barbados to participate in a full year of parish-based celebrations, commencing in January in St....
read more
One young Barbadian artist is boldly taking on the rest of the world and encouraging others to similarly take up the mantle. Akeem Chandler-Prescod has become a familiar face on the local stage, with his engagingly impactful performances at the National Independence...
read more